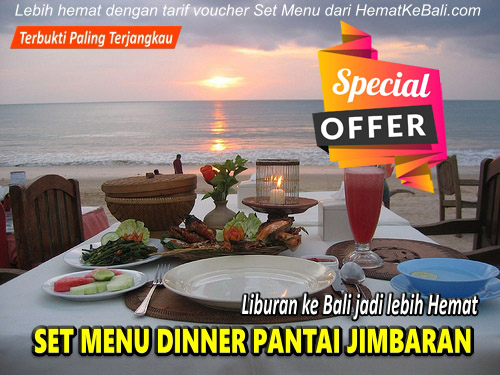 Jimbaran is famous as the place for a romantic dinner in Bali. But, it is also known as the Jimbaran adrenaline. This is where the surfers made ​​excited when conquering the waves.

When traveling to Bali, do not forget to pay a visit to Jimbaran in Badung. It's not far from Kuta. Jimbaran is a region that has never deserted of tourists at home and abroad.

Fun, Jimbaran is a tourist place all there. For seafood lovers, you should try to eat dinner here. The visitors can choose the fresh fish from the aquarium to eat. Pleasures do not doubt!

Not only that, all the restaurants in Jimbaran has dining tables on the beach. With the ocean in front of the eyes and the swish of the waves, dinner atmosphere here is very romantic. With friends, you'll have dinner by candlelight and stars in the sky. Occasionally, looks aircraft will land or take off at Ngurah Rai. Romance!

In addition, there are many other activities you can do in Jimbaran. Just choose, you want to sit relax at the seashore, swim, or waiting for the beautiful sunset.

For the driver of adrenaline, you can also surf in Jimbaran. Although the waves were not very big, but beselancar here a challenge. Your courage will be tested while maintaining a balance in the sled.

Although in 2005 became one of the Jimbaran Bali bombings and the bombing had dampen tourists coming, Jimbaran is no longer lonely. Jimbaran is a complete tourist attractions, ranging from beautiful beaches, surfing, to a romantic dinner.